Getting to know local folktales, ghost stories and massacre in Seoul City!
Are you a true believer of the afterlife? Do you love ghost stories that keep you awake at night? Have you experienced some paranormal activities? Or maybe do you just want to have a frightfully good time in Seoul? If you're looking for something extraordinary to do at night in Seoul other than shopping in Dongdaemun, join The Dark Side of Seoul Ghost Tour! Learn the whole new side of this modern city and the Seoul of the dead.
Murder! Ghosts! Sex!
Stories about the dark side of Seoul that you won't be able to find in tourism brochures or program. Experience walking down the dark alleys of the forgotten 600-year history of massacres, mourning ghosts as well as history of Joseon dynasty.
Along the way the guide will regale tales of Seoul's famous ghosts and murderers, weird and surprising landmarks, and the ancient city's scandalous secrets. Clairvoyants on the tour have reported that they also have a few vaporous guests who joined them. Keep an eye out for them. Ladies will receive a measure of protection from certain Japanese ghosts.
So, if you are looking to hear all the stories that are normally told in whispers being spoken out loud, if you want to learn the darkest secrets of this fine old town; do not hesitate, and join our Free London Ghost Tour. Be spooked and meet some new "friends" along the way!
Extra information after the tour!
Shawn, who happens to be my guide, email me a list of places to visit which are quite unusual for tourists. Such as Inwangsan, a very interesting small mountain that is the epicentre of Korean shamanism.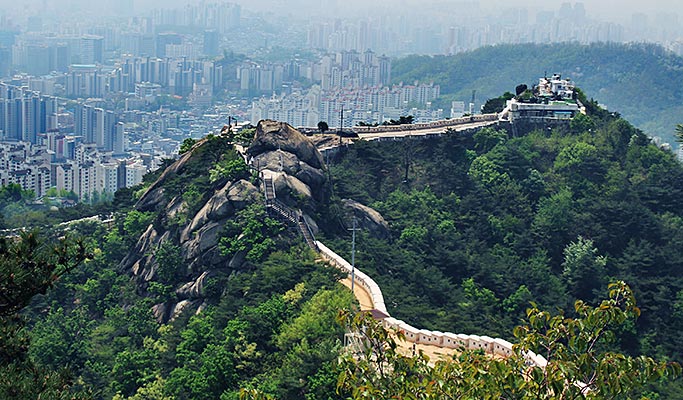 The ancient castle walls of Seoul connecting the ritual sites of King Taejo and Muhakdaesa to the Sajik Tunnel and Jahamun Gate still remain on the grounds of Inwangsan Mountain. You could potentially witness shamans performing rituals called goot (굿). It's an easy hike and there are buses that go to the trail-head but it's easier to just take a taxi if you want to. Just tell the driver Inwangsan (인왕산).
For the Adventurous
If visiting haunted place is one of your must do list, go trespass Gonjiam Psychiatric Hospital! The abandoned psychiatric hospital said to be haunted and voted by CNN as one of the world's freakiest places.
It's about 40 minutes outside of Seoul, and hard to find, but it is possible. Here is a great blog entry about it with directions and photos that Shawn emailed over:
A Creepy Afternoon Alone in an Abandoned Hospital- Gonjiam Psychiatric Hospital
To go Standard 1.5 hours or Extended 2.5 hours?
This tour also comes with an extended edition (available on Sat only) for those who can't get enough for your new "friends". Note that children under 18 should not take this tour. It involves violent stories, sex jokes, and foul-mouthed tour guides.
✓  
Standard Edition Program Details 
☠ The site of a gruesome massacre
☠ The bridge whose stones tell a dark story that lovers and passersby know nothing about
☠ A neighborhood known to be occupied by the spirits of prostitutes who met grisly ends
✓  
Extended Edition Program Details
Stops on the extended tour includes all stops in the standard edition as well as the following:
☠ A palace so haunted that the famous Queen Min refused to spend the night there
☠ Passing by the most haunted house in Seoul
☠ The tale of Korea's most notorious serial killer
☠ A street crowded with so many ghosts that people say you can't take a clear picture at night
Price
| Option | Group of 4 or more | Group of 3 or less |
| --- | --- | --- |
| Standard(1.5hrs) | ₩35,000/person | ₩40,000/person |
| Extended(2.5hrs) | ₩40,000/person | ₩45,000/person |
Be Spooked and Book the tour today with www.indiway.com
!